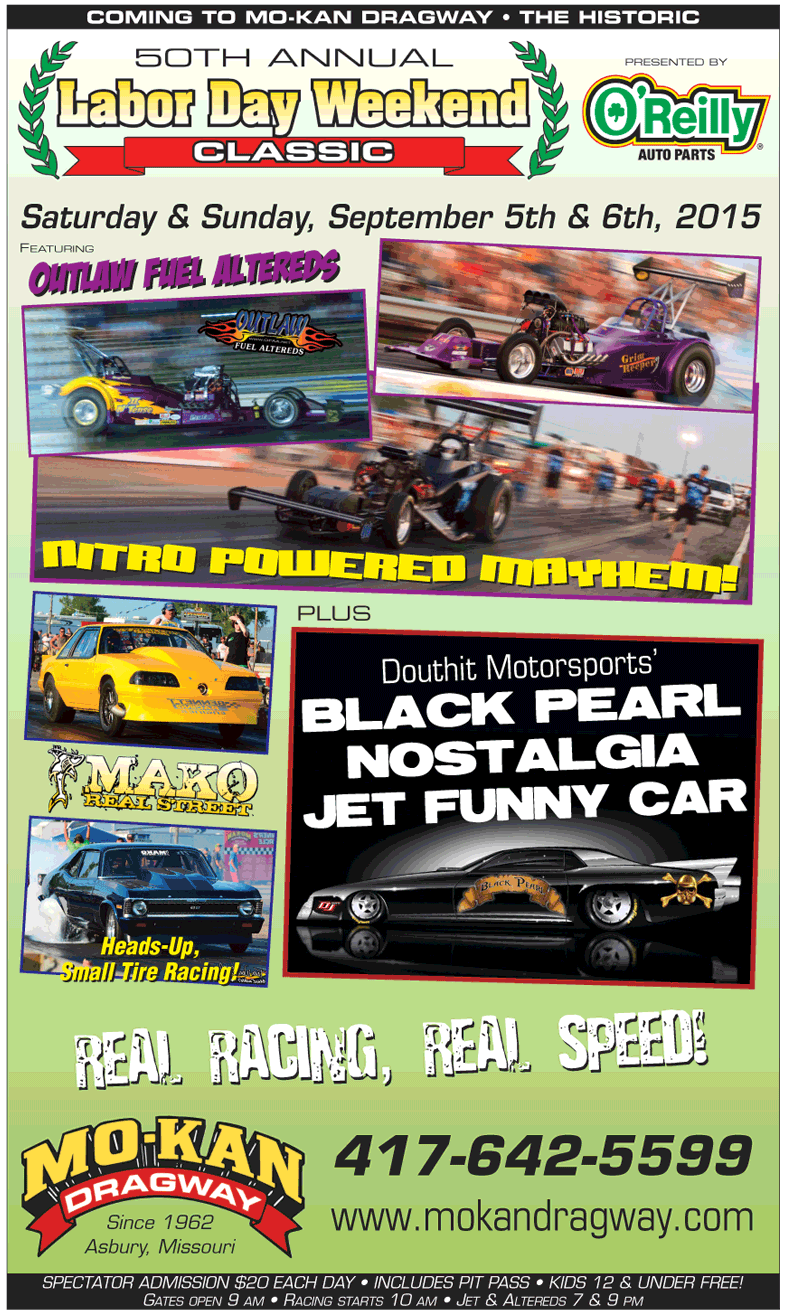 Mo-Kan DragWay 50th Annual Labor Day Weekend Classic
September 5th & 6th
Featuring MAKO Real Street!
Spectator Admission $20 per day.
Kids 12 & under free.
Gates Open at 9 am.
MAKO class runs at 7 pm & 9 pm approximately
There will be two rounds of qualifying on Saturday,early evening (7 pm est. time frame), then one last chance qualifier on Sunday afternoon as early as 1 to 2 pm (following end of bracket time runs). You should plan accordingly in case we are ran that early. MAKO will be following the Fuel Altered Class on Saturday, they are scheduled for 1st round of eliminations at 5 pm.
Racers Jeff is planning on arriving at MoKan early and getting a parking area reserved for us on the straight push road. However, realize this is a BIG race at MoKan with lots of cars. If you get to the track by noon on Sat, chances for parking in the reserved area will be decent, but later in the day the pits will fill up fast and you may have to pit further down south than the group.
Note: Right Now this is the LAST MAKO RACE that is on the books. We would really love to see a strong turnout to close out this racing series with a huge turnout! If you've ever race MAKO, or enjoyed watching the class, friends or family of the racers, get your butts to MoKan on Labor Day and let's make this a race to remember!!!
Gates Open 9 am (both days)
They are having TNT Friday night, Gates open at 6 pm for TNT and Camping Overnight is allowed.
Race Entry
MAKO Members Free Entry
Spectators/Crew $20 day or 30 for 2 day pass
$75 Entry Car & Driver
Purse
A Feature Purse
16 Car Qualified Field
$1000 Win
$500 Runner Up
$250 Semi's
$100 to Lose 2nd Round*
$50 to Lose 1st Round*
*If we have over 8 cars in A Feature
Note:If your car has at any time ran quicker than a 5.25, you must qualify for the A field.
B Feature (Only if we have 16 cars or more!)
$200 Win
$50 Runner Up
2nd Chance Race
2nd Chance will be A Feature Non-Qualifiers and 1st round losers (IF over 16 cars).
$100 to Win
$50 to Runner Up